Social media content should always provide your audience with value. Even if that's just a quick laugh, make sure all of your posts have a purpose.
In today's competitive marketplace, the impact of social media on business can't be denied. Creating social media profiles for your company is no longer optional — it's a must-have. Maintaining an effective online presence is needed in order to make your business seem relevant and reliable to both current and potential consumers.
While you may be an expert with your personal social media accounts, the strategies and tactics used for your business's social media will be considerably different. We're sharing some of the social media do's and don'ts we practice with our clients.
Let's start with the don'ts…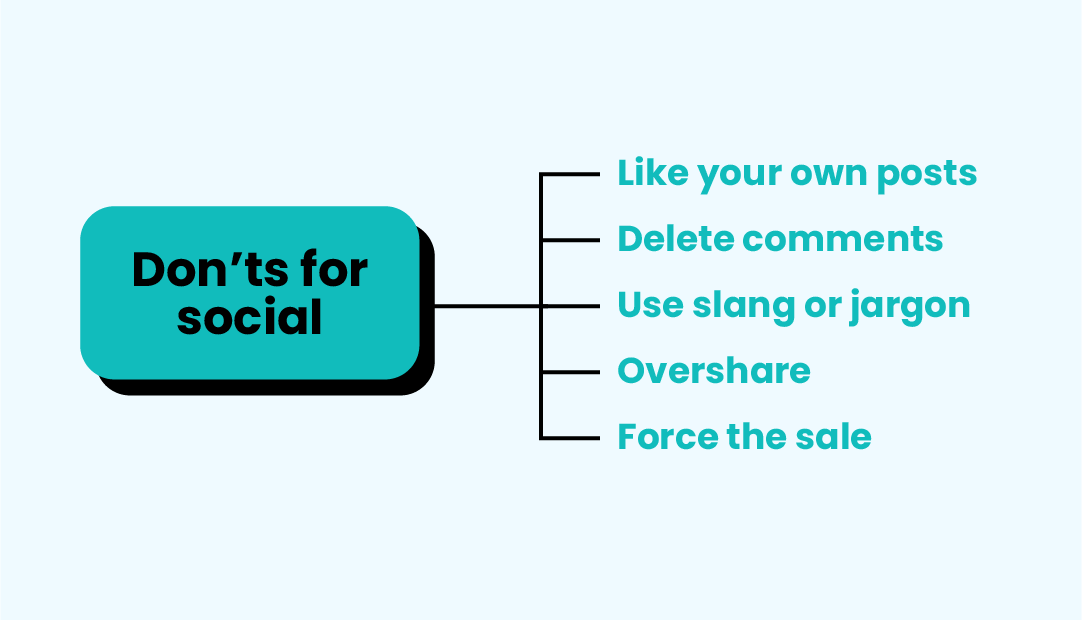 Don't like your own content
There are few things more taboo on social media than liking your own content. This small mistake could cost you followers and interactions in the future. By liking your own business' content, you are doing two things:
You're telling users that your content is getting so few likes that you're trying to boost the number for appearances
You're showing followers that you're not social media savvy and are unaware that this behavior is frowned upon
No matter how the user looks at it, liking your own content can really hurt your business' image on social. It's better to have zero likes on a post than one from yourself.
Instead, encourage your coworkers to like and share your company's posts. This can help boost engagement as well as your reach by having team members share it with their friends and followers.
Don't delete consumer comments
Unless it's an extreme case, such as an inappropriate image or offensive language, keep all comments visible. It may be tempting to delete negative feedback for fear of losing customers, however, this can harm your business' reputation. Instead of deleting, respond by asking to take the discussion to a private message. Even if you're unable to find a peaceful resolution, responding shows other followers that you care about their opinions.
Don't use slang or jargon
One of the most important things to remember is that not all your followers are industry experts. Actually, most of them are looking to you for thought leadership. Make sure your content doesn't include high-level industry lingo, especially abbreviations without a brief explanation. This way, anyone coming across your message can clearly understand.
It's far more valuable for your audience to learn new information straight from the source instead of trying to decipher some secret language without context.
Don't overshare
Don't spam your followers with an unreasonable amount of content. While you may think that more posts will lead to more online visibility, the opposite is more likely to happen. If your business is posting too often, followers may become annoyed and unfollow your account. Instead of flooding social feeds, carefully and strategically spread posts out to keep your audience engaged.
Don't force the sale
A lot of people follow brands to stay in the loop of new product or service offerings. Some may follow a brand due to their funny personality or creative posts. The majority of users are not following a company to see pushy or salesy content. Try building connections first and focusing on creating consistent content. Once that trust is established, sales will come naturally.
Moving onto the social media do's…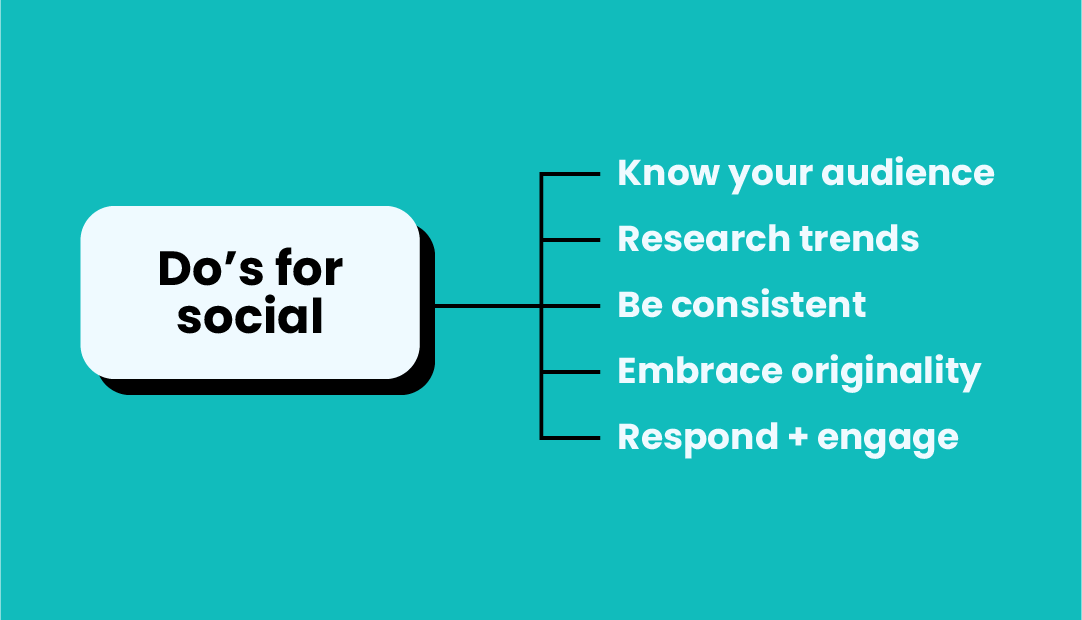 Do know your audience
Social media posts should be geared toward your business' target audience. Having an understanding of who uses your products or services can help you create content that this demographic will find useful, informative or entertaining. Do some research and determine who to target prior to creating new content.
When researching your audience, make sure to look at what social platforms they are using because not all consumers are using every platform. It's important to align your social strategy with the same channels your audience prefers and to avoid wasting resources on ones that your customers aren't even using.
Just a side note — All social media content should provide your audience with some sort of value. Even if the value is just a quick laugh, make sure all posts have a purpose.
Do research trends
Now that you know your target audience, it's time to dive deeper. What type of content is your audience looking for and what are they engaging with? Luckily, these questions are answered in various trend reports. Use the internet as your guide to different studies and reports to see what's working best online and what topics are trending among your target demographic.
Is there an event in real-time that everyone is talking about or a viral meme going around? Hop on the trend if there's a creative and relevant opportunity for your business.
Try creating custom industry reports or blogs using your team members as SMEs (subject matter experts). Think about what content you can create to help your target audience quickly and easily find the information they're looking for.
Do be consistent
Between scheduling software and admin abilities, it is more than likely you will have multiple people posting to your social channels. Make sure that your brand's voice, tone and posting schedules stay consistent no matter who manages the content. This helps to make your business appear unified and recognizable to its current and potential customers.
Do embrace originality
No one likes reading the same stale content every day, so switch it up and get creative with yours. Creating posts that are unique and branded will make your social media feel more personable and entertaining to your followers.
Don't be afraid to experiment with your visual identity on social media! A fun graphic or video can stand out on an oversaturated feed. When creating graphic design elements, make sure to understand what dimensions work best on which platform.
Do respond and engage
It's pretty obvious that you should be answering customer questions or concerns on your business' social media pages. However, responding online shouldn't stop there! Engagement online is key to success – I mean, it's called "social" media for a reason! Taking the time to thank someone for positive feedback by commenting or giving a shoutout establishes brand loyalty and could result in a customer for life.
Encourage your followers to engage with your brand by posting UGC, or user-generated content. User-generated content could be as simple as resharing posts from fans that have tagged your brand. This is a free way to share positive feedback while engaging with your followers and providing your team with a wide range of new images to use on social.
Effectively using social media to promote your business can be difficult. With an understanding of these do's and don'ts, you're on the right track to gaining more followers and interactions across all platforms.