We've won another Best + Brightest award! You might be thinking, "Wow, they must be doing a lot of things right!" Well, we believe that's true, but don't take our word for it. Ask our team members. We did.
There are thousands of awards up for grabs in the marketing industry, but SSDM separates them into three different groups:
Awards that are bestowed basically for the price of entry. We generally don't enter these competitions.
Awards that celebrate extraordinary campaign strategy, design and execution, and are judged by independent, third-party industry experts. We've won our share of these.
Awards that are completely predicated on what kind of company you are and how that impacts your attitude, team culture and clients' experience. We value these above all, as they recognize what kind of agency we've become and validate our belief system.
Best + Brightest criteria and process
For the past 18 years, the Metro Detroit Best and Brightest Companies to Work For® competition has identified and honored "organizations that display a commitment to excellence in their human resource practices and employee enrichment. Organizations are assessed based on categories such as communication, work-life balance, employee education, diversity, recognition, retention and more."
The participation process for Best and Brightest features a company self-assessment, anonymous employee surveys and a third-party evaluation. After the submission and evaluation processes, companies are provided a report with valuable insights to help them identify opportunities for growth.
Three years in a row is quite a feat but we have even more to celebrate. For the first time, SSDM has made the cut as one of the Best and Brightest Companies to Work For in the Nation® for Winter 2021. We couldn't be more proud of the team and culture we've cultivated.
Why does this win matter so much?
Well, if you're a client, pat yourself on the back for choosing to work with such a stellar crew. If you're not a client, these sorts of accolades are important to note when looking for a long-term marketing partner. It means a lot to us because the questions asked by the Best + Brightest board encourage employees to anonymously reflect on the level of appreciation they feel from the company, against metro Detroit and national benchmarks.
Do they feel valued? Do they feel that their work is important? Do they feel they have an outlet to voice their suggestions and opinions? Do they feel that anyone is listening and actually hearing them?
Keep on keepin' on
For an agency that has built its foundation on a cooperative and collaborative spirit, COVID forced us away from each other, but it didn't change the rules of the game. As a team, we had to reorganize our thinking in order to maintain the same level of excellence and deliver the same high-caliber outcomes.
We continued to grow and, like many companies, new teammates had to be onboarded virtually. While it's hard to feel like an integral part of the new team when you're at home in your spare bedroom, the survey responses revealed that team members did feel they were part of a tight-knit group and that their contributions mattered greatly – to the agency, our clients and the team as a whole.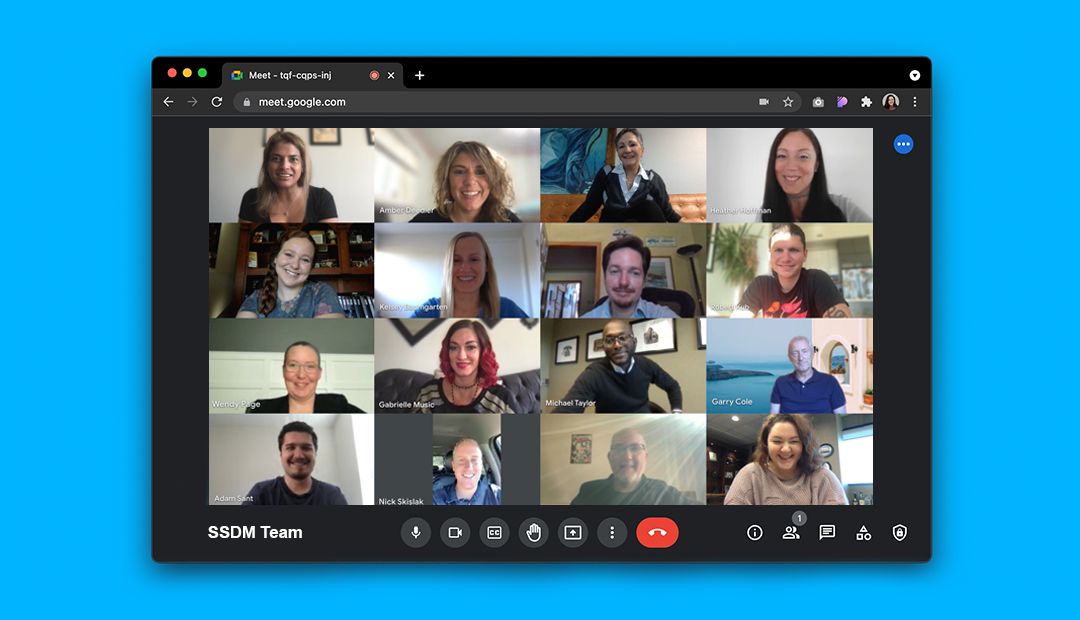 Recognizing a need in HR
Something as important as team synergy doesn't just happen. We identified the need for a human resource professional to help guide us – all of us, including management – as we navigated uncharted territory.
For a company of our size, an internal HR department isn't typically feasible. However, we knew this position was critical and were delighted to add Wendy Page as HR Generalist to the team. Wendy helps us find and vet talented folks and thanks to her, we have a highly competitive benefits package to complement our award-winning culture.
Growing together
In our business, we're used to saying that "Content is King" – and it is. At SSDM, we like to think that "Culture is King," too, and we've worked very hard to recognize and reward our team members during the pandemic. It hasn't always been easy, but then, our industry isn't always easy either.
We are proud to say, however, that through it all, we've stuck together, grown, taken on new clients and learned a lot about ourselves in the process. And in the end, isn't that really what it's all about?