Working with a digital marketing agency for the first time naturally comes with some hesitancy — and lots of new questions. That's why a people-first philosophy is key when developing new client relationships.
What's the point of CX management?
Essentially, we've taken the idea of "customer experience management" and shifted the focus. Our approach places less emphasis on the project management side of the work and focuses more on building strong, trusting relationships with our clients.
We define client experience management, or CX management, as a dynamic approach to managing expectations, projects, communication and objectives for both the agency and the client. A specific CX manager is assigned to help clients with a number of things:
Overseeing client projects from start to finish
Interpreting and reporting on data milestones
Stewarding the client's brand and marketing efforts
Advocating for their business goals and objectives
Being the voice of the client within our SSDM team
"One of our big things here is to lead with our clients and be their partners, rather than just leading them to the solutions," said CX manager Bree Glenn. "We want to provide a person who clients can trust and know that they will always have their back."
The secret sauce for enhancing our clients' experience
Many marketing agencies focus on specific platforms like Google Analytics or specific skills like customer relationship management (CRM), paid media, brand design or web development (to name a few). While this is a stable business model, it can make pitching for scopes outside of that comfort zone difficult and limits the number of solutions available to a company.
Our approach is to have subject matter experts (SMEs) on all of those niche skills but as an agency partner, we take it a step further.
We're in a position to come in, lay every possible marketing solution out on the table and work together to determine the services that make the most sense for our clients — and the CX team is key to making this process flow smoothly.
"As a digital agency, it's our job to know the ins and outs of your business just as well, if not better, than your internal teams. That's where the magic happens." – Nick Skislak, founder and CEO
It's all in the solution-seeking philosophy
As the web grows and the way we consume media changes, clients continue to ask how they can conquer the evolving marketing world in order to grow their business.
What is the value of TikTok for a business and should we be on it?
How can we effectively reach our target market online?
Is a modernized and responsive website what our company needs to grow?
Are digital leads just as valuable as traditional sales leads?
Is organic social media growth enough or do I need to promote my posts?
Often, clients simply don't know the answers to these questions — and that's totally okay! That's where an agency partner comes in. A robust CX team means creating a space for those SMEs and thought leaders to take on a client's questions and determine solutions that make sense for their business goals.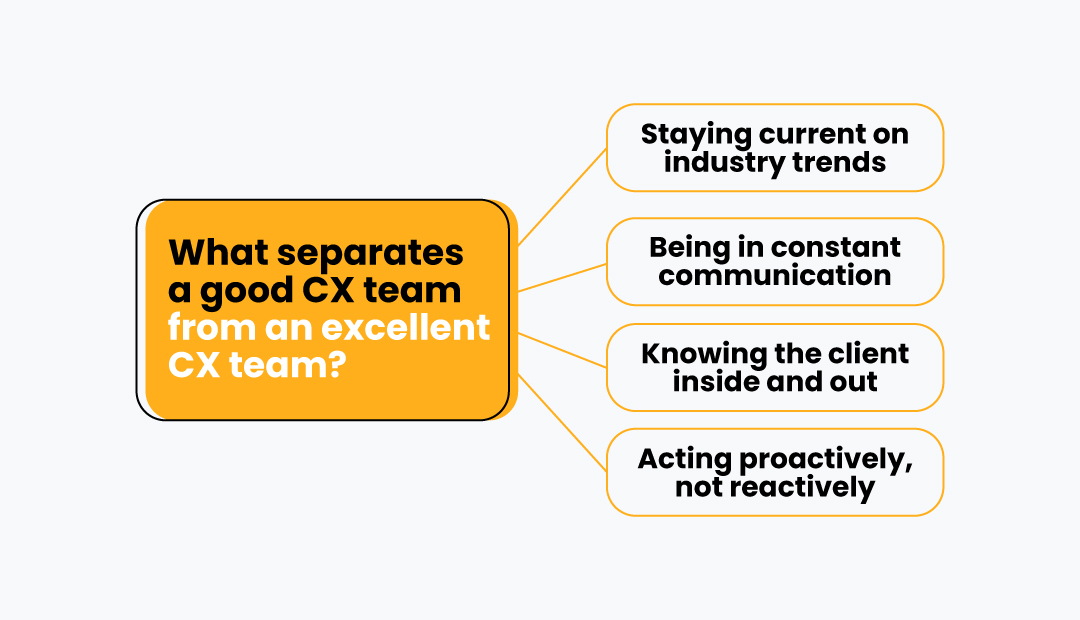 Good and great mean very different things
It's no surprise that all clients want is someone they can rely on. Someone who will help make their business look (and perform) great. And they want to know that they're investing their marketing budgets wisely. Our CX team makes sure your business shines. We practice excellent client experience through:
Staying current on the latest industry trends
Being in constant communication
Knowing our clients in and out, and
Acting proactively rather than reactively
"We do everything with our clients as partners. That means their wins are our wins, their losses are our losses, their goals are our goals and we take that very seriously," said CX manager Michael Crank. "It's all about what we can do to address and find solutions for their pain points."
Think of us as your personal glam squad
We know that our clients want to make sure they're getting back what they're investing — and we want that for them too. This is one of the primary roles of being a client experience manager. We give our clients all of the tools and resources they need to truly stand in the spotlight, looking like superstars to their bosses and talking about how proud they are of the company's growth.
At the end of the day, our goal is to speak the client's language so that they understand the measurable outcomes we're delivering (that means not using a bunch of confusing marketing industry jargon) and feel at ease every step of the way.
CX managers translate what the client's vision is — whether that be their business' mission, goals or dreams — and then they help it become a reality. What's not to like about that?!
Answer these 10 questions before developing your digital marketing strategy
Answer these 10 questions before developing your digital marketing strategy