New year, new me… we've all heard that phrase. And we've all spent the whole year after trying to achieve whatever vision we came up with or unrealistic goals we set for ourselves.
Building your personal brand on LinkedIn is no different! It can be a little intimidating at first, so that's why I wrote a list of my top five tips to get your LinkedIn presence rockin' in less than an hour. Let me help you highlight the new (and improved) version of yourself.
Tip 1: Update that headshot
2018 called and it wants its picture back. That cropped picture from your family member's wedding has got to go! Take a look at your current headshot. Does it represent you today? Does it represent how your peers see you?
Have you heard the saying, "Don't dress for the position you have, dress for the position you want?"
Uploading a new headshot helps you digitally dress for the position you want and envision your future self. I suggest using a professional photographer but it can be as easy as grabbing a friend and a cell phone. Find a professional setting with a plain background, smile, and snap away. Add it to your profile and you're ready to go!
Tip 2: Spice up your headline and summary
Headlines are how the world knows who you are and what you do. Let's try something – what do you think is the first result that pops up when you Google your name? Most of the time it's your LinkedIn profile. What a perfect opportunity to show off a great new headshot, headline and professional summary. Have a little creativity in your headline: Include what you do, who your target audience is and something fun about you or your profession.
Let me show you this tip in action! Here's the headline I chose to represent who I am on LinkedIn: Michael Crank — All About my People | Service Driven | Creative Soul | Client Experience Manager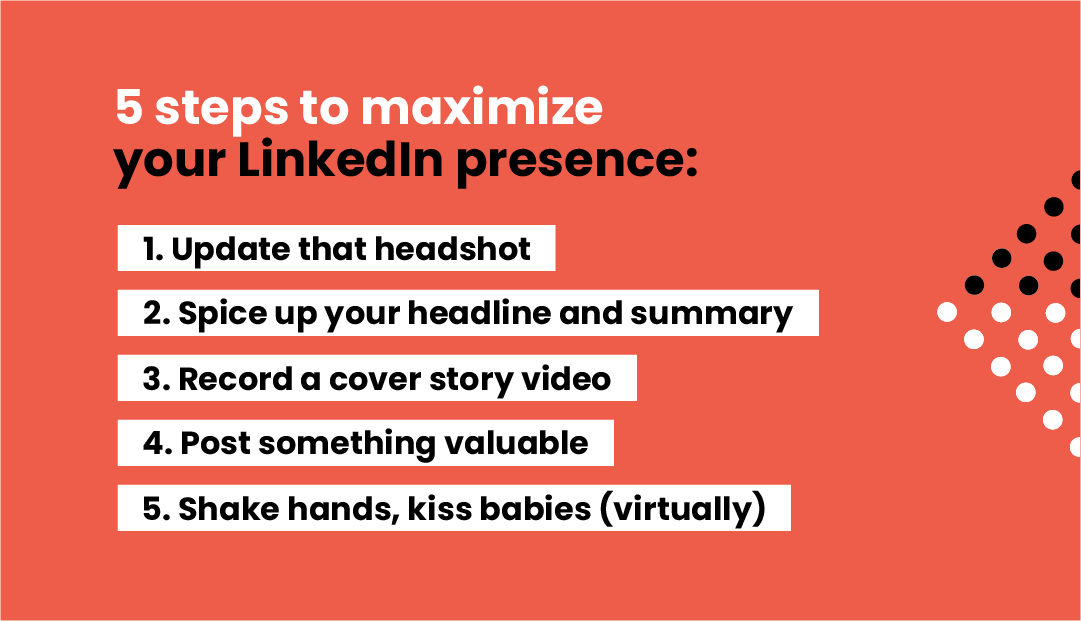 Tip 3: Record a cover story
It's time for your 30-60 second elevator pitch! Why rely on a headline or professional summary when you can film yourself talking about everything you've accomplished? No shame in your game, so make your pitch! LinkedIn cover stories are a chance to potentially make a stellar first impression on your dream client. Own it!
Tip 4: Post something valuable
I know it can be scary but just go for it! Jump in and I promise, when you get there, it is not as scary as it seems. What should you post? Try a variety of content. This is a chance to soft sell. However, DO NOT use your personal page to push products non-stop. Leave that to whoever runs the company page. Instead, post about you and how your personal brand fits into your company.
Here are a few post ideas to start with:
Recent award wins for you or your company
A day in the life
Success stories of all kinds
Stories of failures and lessons learned
A shoutout for one of your incredible connections
Whatever you post, the most important thing is to be authentic! Position yourself as an expert in your field and utilize as many tools as you can get your hands on.
Bonus tip: Like most social media platforms, LinkedIn will always prioritize the latest and greatest features and those posts will get you the most visibility. Right now that feature is LinkedIn polls.

Tip 5: Shake hands, kiss babies (virtually)
Get out there and engage! LinkedIn is a "givers game." If you want your connections to engage with you, you must engage back. Don't be shy! Comment on your prospects' posts, comment on your coworkers' posts, comment on a post that inspires you! When you engage it gives you more visibility and in turn, will help increase the engagement on your posts.
You can do this! I believe in you. Conquer part of your New Year's Resolution right out the gates. Snap a pic, create a headline, record your elevator pitch, post something awesome, and comment on your favorite post of the day. Easy breezy. Keep the momentum going by commenting and posting 2-3 times a week!
LinkedIn is a mutually beneficial tool — as you grow your personal brand, your company's brand will reach new heights in return. We are in this together. Digital networking is a beautiful dance. Do you hear that sound? It's the music… start grooving.
The man, the myth, the legend… Meet our exuberant client experience manager Michael Crank
The man, the myth, the legend… Meet our exuberant client experience manager Michael Crank