As a digital marketing agency, we have received hundreds of RFPs. We're here to guide you in improving the chances of receiving meaningful proposals in return.
Rethinking the RFP
Think of your project as a problem waiting to be solved. The agency partner you seek is the one that can give you an innovative solution that meets your business requirement.
This approach brings perspective to the RFP. When you start by stating the problem vs. providing a list of goods and services, the responding agency can develop a roadmap to quantify, solve and price.
Before you start
There is a distinct difference between them. A good RFP should include a crystal clear description of what you need, as opposed to a "wish list." If you feel you have to include your "wants," do so in a separate section.
Start by laying the groundwork.
Ask your internal teams. They'll likely interface with this partner, so a needs assessment with them is a great place to start.
Ask the sales team. If you are seeking measurable business outcomes integrating the sales team early on, you better understand what they need and increase your chances of everybody being onboard. Your sales team may even have candidates in mind for an RFP response that you hadn't considered.
Get the technical specs from your teams. The technical requirements can be just as important as KPIs and team needs
Remember that there are three things an agency needs from you to provide a meaningful RFP: your KPIs and goals, a detailed scope of work and your budget.
Quality over quantity
Remember that your RFP's most important mission is to weed out the agency partners that aren't a good fit and identify the ones that are. If you make your scope of work too broad, it's much more difficult to properly compare apples to apples when reviewing the responses. This is what usually leads to large Q&A calls that ultimately leave agencies to decide to either not respond to the request, or leave more questions than answers.
Be upfront about your budget
We understand your inclination to not reveal your budget however, it can drastically improve the quality of responses you get. Providing a target budget streamlines the whole process for everyone. It doesn't have to be an exact number but a range is super helpful in the process. Getting and disclosing a budget upfront does three things:
Gets organizational alignment. This will determine the overall worth to your organization including priority, value you are hoping to get from the request, and overall budget impact.
Limits respondents. It will help weed out the under and overqualified agencies and ultimately make your selection process easier. Those who choose to respond will have a good idea of its value to both of your organizations and can provide a more meaningful proposal.
Right-sizes the project for the agency: It will help the responders get a sense of "appropriateness." If the project is within their purview in size, capability and budget, these are the people you want. And, they won't give you a proposal that's three times the size of your entire annual marketing budget.
When it's not an option: Ok, so we understand that disclosing budget may not be an option. If it's not an option, it is even more critical to be as detailed as possible about the desired outcomes and the scope of work.
Agency pro-tip: If you're finding it difficult to determine the appropriate budget for your project, consider a consultation or a discovery session to help you hone in on specifications and costs. It can be addressed separately in the same RFP, or it can be a separate RFP altogether.
Resist the temptation to use a cattle call approach
It may seem like a good idea to submit your RFP to a service that, in turn, sends it out to a thousand agencies across the country. But do you really want to have to cull through dozens of proposals?
Even if you have a "cheat sheet" to eliminate a third of the proposals upfront, you'll still end up sifting through proposals – both appropriate and inappropriate – for weeks.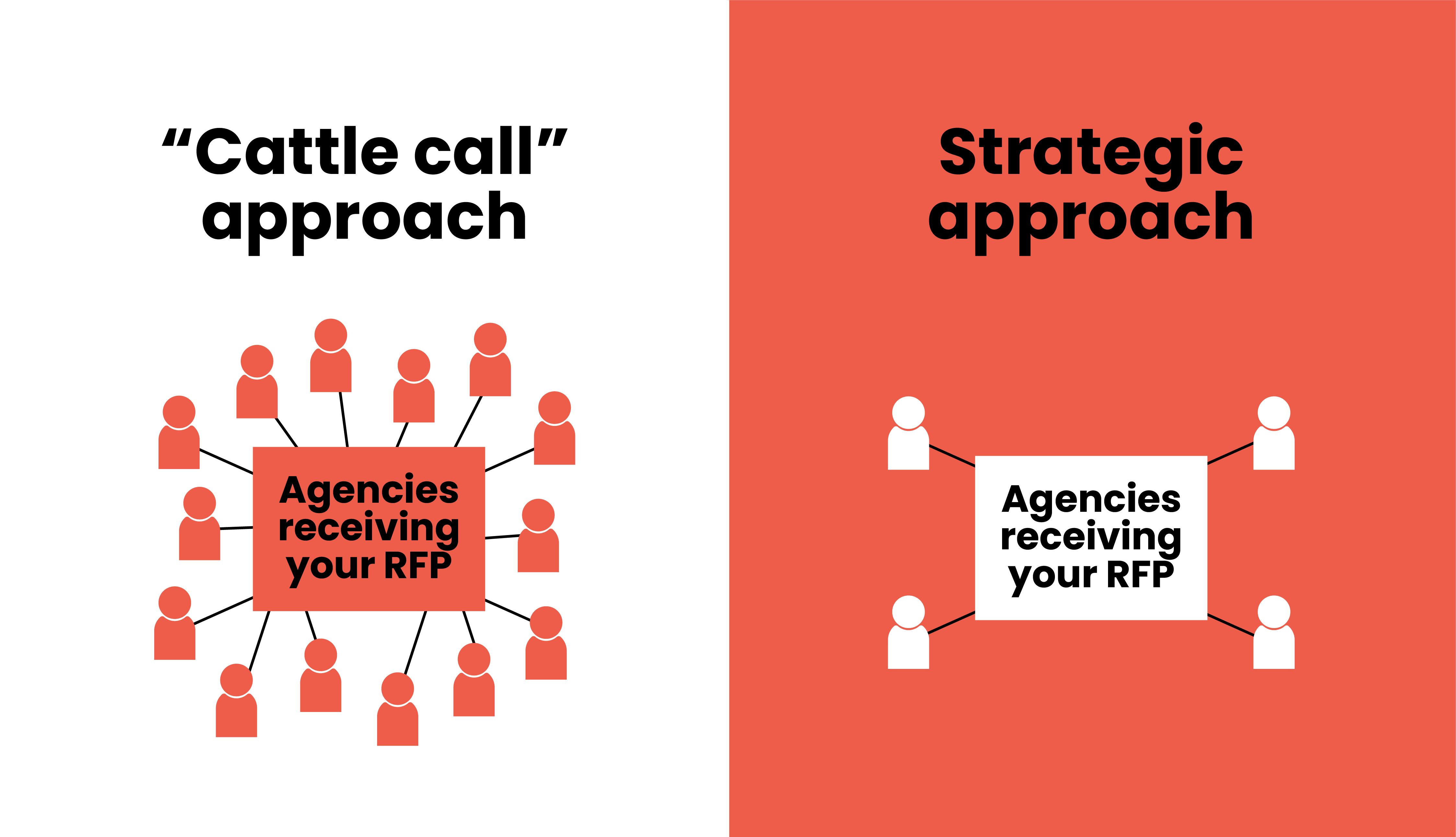 Consider this approach:
Research. Do a little sleuthing first to determine which agencies may be a good fit for you. Review websites, press releases, blogs and social media channels, then send RFPs to the top contenders. Also, ask for referrals from other professionals in your network.
Criteria lineup. Determine the criteria that means the most to you. Whether it's expertise, the type of people you want to work with, or previous similar industry experience, make sure you list out what really matters to you.
Communication is everything. After you've chosen your candidates, make it clear in the cover letter that they've been chosen to receive an invitation to respond and they will be more likely to spend the time needed to thoughtfully answer your well-crafted request. Also, follow up with a phone call to ensure the request was received and provide any detailed next steps.
Choosing the winning partner
Once you've received the RFP responses, how will you decide which company to work with? Here are some things to consider:
Previous work: Case studies, industry expertise, and approach to the work. What were the results? Is there any relevance to the outcomes you are looking to achieve? How long ago were the case studies created?
People: These are the people you'll be working with so picking the right ones is critical for a successful outcome. Culture, process and overall expertise are critical. But also look for how they communicate and engage. Look for those that are collaborative, passionate and accountable.
Testimonials: Talk with references and check out client testimonials and reviews.
Timing: If your deadline is tight, and especially if it is immovable, this will be critical.
Investment: The price is important, but the value is also the outcome of the results of what your needs are.
So, what's the moral of the story? Being smarter about RFPs will help you achieve amazing results and partnerships in the long run.
Ready to write your next RFP? Download our in-depth checklist of the best things to include
Ready to write your next RFP? Download our in-depth checklist of the best things to include