SSDM is delighted to share its latest award win – this time, for a social media strategy to restore the reputation of a local animal shelter.
Waging social media war
SSDM was first introduced to the Humane Society of Macomb (HSM) several years ago, when the shelter was going through a tough time. HSM had become the target of negative social and traditional media attention. 
The SSDM team was happy for the opportunity to put some positive social light on all of the good things that were happening at the shelter, and provide transparency to its community members.
"This campaign truly demonstrates the power of social media – both good and bad," says SSDM partner and accounts director, Amanda Farley. "Not only did we reverse sentiment, the shelter actually increased its number of volunteers and donations in the process, and it has since achieved 'no-kill' status. We are so proud to work with this wonderful group of people to help them regain the respect they deserve."
Understanding the audience
Successful social media campaigns start with understanding what your audiences actually care about and providing them a two-way conversation that evolved around exactly that. It was extremely important to our audiences that HSM achieved a "No Kill Shelter" status. Their teams did everything to make that happen and we were there to help tell the story. It was also important that the animals received more attention and care through volunteer efforts which started our volunteer program campaigns. It was a great success. 
Check out our case study to get more details, including campaign metrics and results.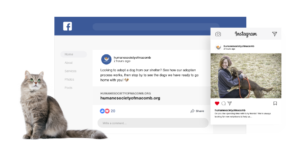 Happy animals, awards and rewards
SSDM is delighted to be cited for its best-in-class campaign in the Charity/Not-for-Profit category, for our reputation management campaign on behalf of the Humane Society of Macomb.
The campaign recently won the Marcom Gold Award from the AMCP (Association of Marketing and Communications Professionals), and also has been honored by IABC Detroit (International Association of Business Communicators) with the Gold Quill Renaissance Award, and it earned a PRSA Detroit (Public Relations Society of America)  East Central District Merit Award.