Marketers have access to an abundance of search data, content and recommendations from Google but let's be honest – all of that information can be a bit overwhelming at times, especially if you don't know where to start.
Laying the foundation
Most of us are familiar with Google Ads, Google Analytics and Google Tag Manager, right? Digital marketers are likely monitoring and tweaking each of those tools daily, and executing the same process for several different clients.
These are incredible marketing tools – no doubt about that! However, they can only be effective if your digital marketing strategy and audience insights are well-informed.
Think about it: Let's say your search ads feature copy written by a seasoned pro, creative that's been crafted by an Adobe expert and audience targeting set up by a digital guru. Now, if you're serving those ads to people who aren't even in the demand generation stage or who don't have any influence on the purchase decision, you're likely to be wasting resources.
That's where search trends and data come into play. We're going to walk you through the trends to look out for and how to identify strategic opportunities.
Metric trends
Metric trends illustrate year-over-year data for things like search queries, impressions and clicks. These are important to gain a better understanding of the category's growth potential and current demand. Here's what a metric trend report from Google might look like: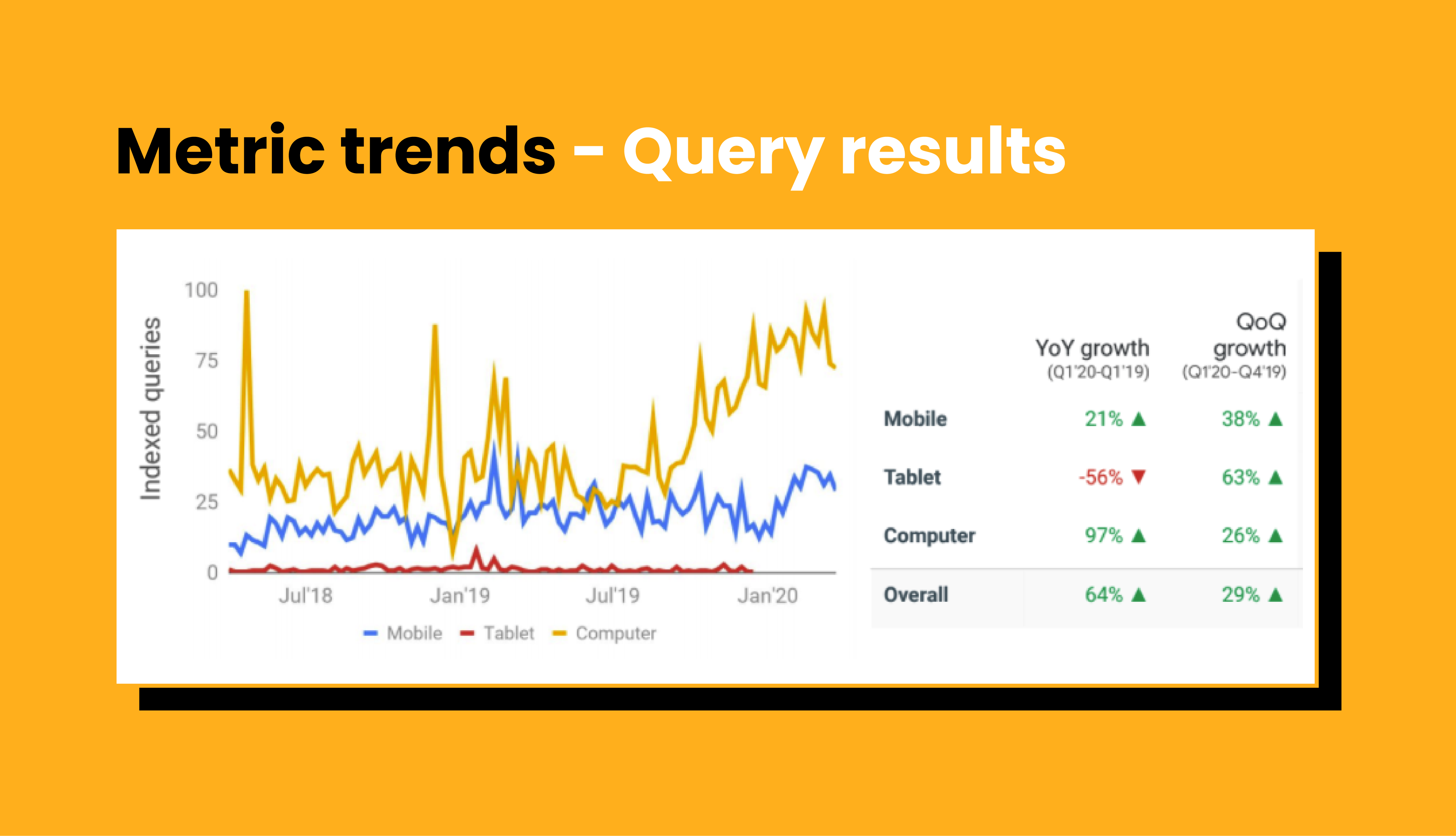 Vertical trend reports from Google also provide useful ad data. You'll want to look out for these trends:
Click-through rate (CTR) – CTR can change depending on your Google search results ranking. Sistrix, an SEO tool for industry professionals, conducted a study and found that the first search result shown on Google typically sees a 28.5% CTR. So, how do you achieve a higher ranking? Focus on Google search trends to identify hot topics, keywords and search queries. Then, use that data to create campaigns that highlight the solutions people are seeking.
Cost-per-click (CPC) – For each ad you run, you pay a certain price each time someone clicks on the link – whether they're part of your target audience or not. Unlike CTR, a low CPC is far more desirable. Google search trends provide information on who is most likely to convert on your ads, and more conversions will likely lead to a lower CPC.
Ad depth – In this case, ad depth just refers to the number of ads shown on the search results page. If trends are indicating a significant increase in ad depth, you might want to consider other search terms or increase your efforts to compete. This is a good time to review your ad copy, headline, total characters used and especially, your call to action.
Device trends
You can find device trend data in every Google marketing tool. Using this information, you'll be able to determine which devices each of your buyer personas prefer to use during the research phase. Then, you can use the data to optimize and develop content for each device.
Knowing where and how to advertise can be a game-changer, especially for ad placements and dimensions. If clicks from tablets are down by 40% while queries from computers are up by 80%, you have a few clear action items:
Resize banner and other ad creative
Rethink placements and shift those locations to optimize for desktop
Research reasons why your audience's search behavior may have changed
And the best part is that you can apply these same trends to device targeting since certain display and video campaigns can be served to specific operating systems, device models, ad inventory carriers and wireless networks.
Seasonal trends
While some industries – like accounting or construction – are well-prepared for their seasonal fluctuations, you may be surprised to find that nearly every industry experiences seasonality trends. Here's a heatmap of query and CPC trends for the HR industry: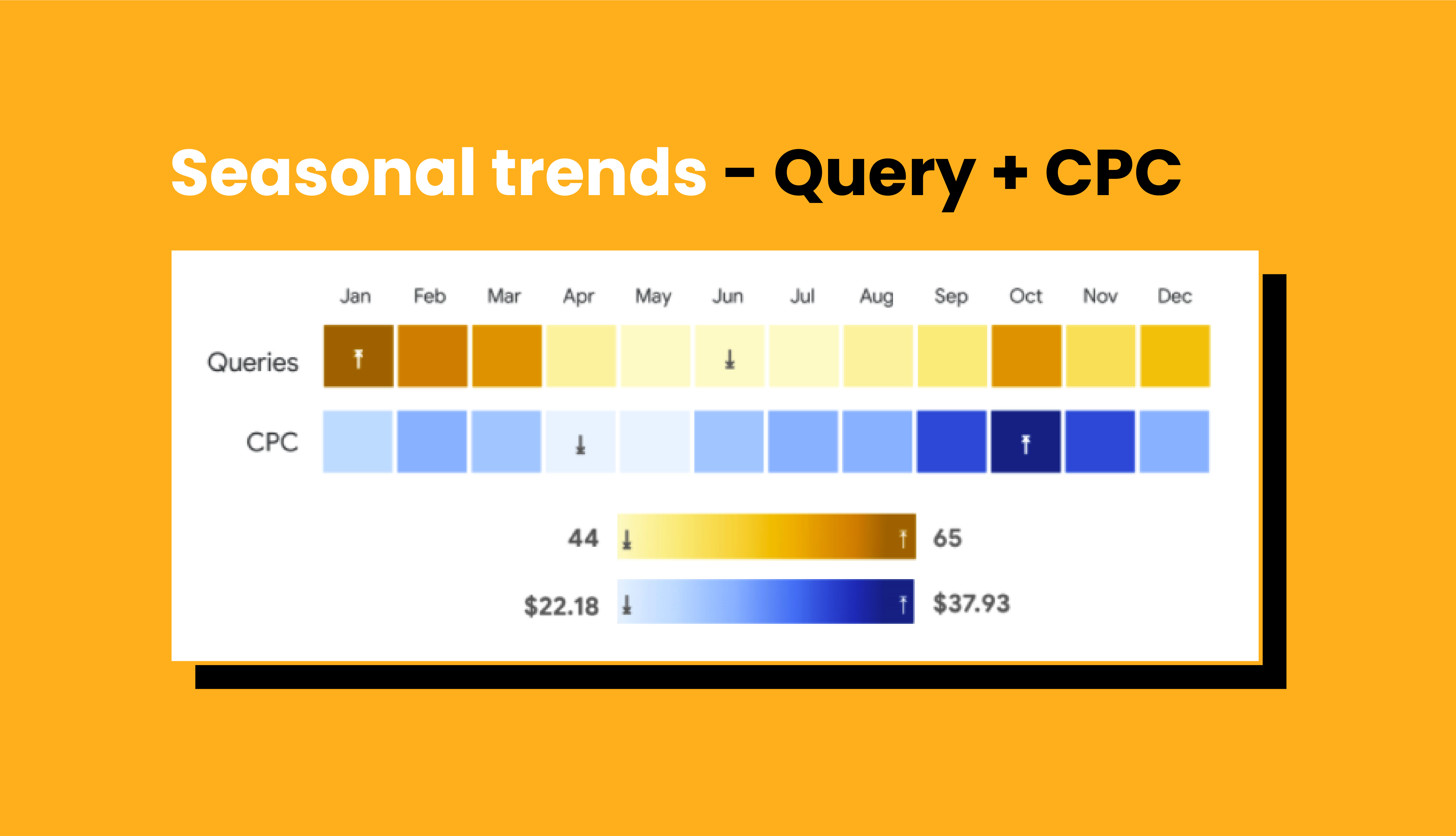 As a marketer, it's vital to see where search queries peak in relation to the average cost for display ad clicks. These data spikes can determine the timeline of your campaign, how you allocate your resources and when your sales team will need to lean on you for marketing materials.
There's no use in spending time and money running campaigns for a solution that doesn't have a worthwhile query volume. Trust us – knowing when to run ads is equally as important as knowing when to shut them off.
The amount of search trend data may still be overwhelming, but knowing how to understand the signals and identify potential opportunities for your company is half the battle.
Ready to use Google Ads? Partner Amanda Farley tells you how to set your account up for success
Ready to use Google Ads? Partner Amanda Farley tells you how to set your account up for success