Ask yourself: are others determining the perception of your brand or is your business shaping the conversation? To survive in the digital world, it's crucial to monitor the social media chatter about your brand and industry.
Perception is everything
No matter the industry you represent, the way consumers perceive your name has a lot to do with the success of your company. The power of social media means public opinions and perceptions have the ability to travel around the world and back within seconds. It's important to equip your internal marketing team with the knowledge and tools needed to stay in control of your brand's image.
Trendsetting – and trend following
Are you writing great content that's relevant to your ideal customers but still struggling to find an active and engaged audience? Try participating in trending topics to help drive engagement and get the dialogue started. Here are 3 tips to help you better utilize social media trends:
Use viral memes.

Don't be afraid to use a trending meme, as long as there's a good way to relate it back to your business, products or brand. These will help you look relatable and give your social media accounts some personality. 

Consider joining trending platforms.

New social media platforms constantly enter the picture, so pay attention to where your audience is most active. If the majority of your prospects are on a new platform, do some strategizing and brainstorming to find out how you can utilize it. 

Change up content formats.

Written posts were the standard for a long while, but other formats are dominating social media now. Look for ways to repurpose existing content to create videos, stories, infographics, carousel posts or podcast episodes.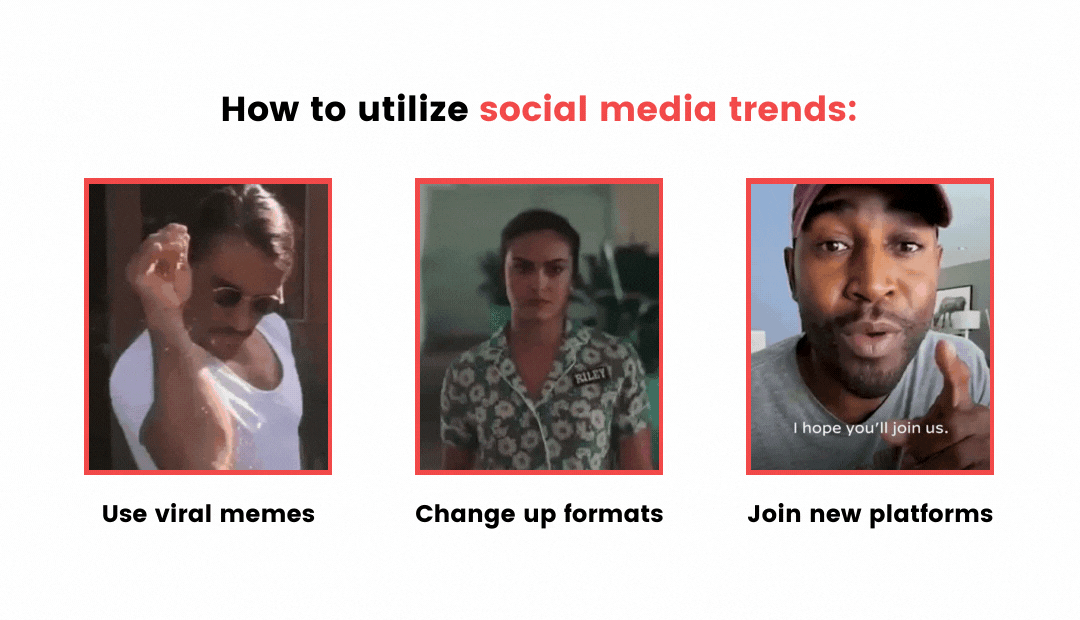 These tips alone won't make your account an overnight success. You need to spend some serious time researching your audience and their preferences. Using Google search trends and other search listening tools as guides for content creation, take note of common search terms and recurring themes that are relevant to your brand.
It's all about digital etiquette
When consumers actively reach out to you on social media, be sure to let them know you value their opinions and comments. Each platform has some unique features, so follow these etiquette rules:
 
Facebook:

There are no character restrictions on Facebook and comments are public. That means you want to craft a professional and well-thought-out response to comments – even if the comment is inappropriate. And, if you own a business page on Facebook, know that you're being ranked on message response time,

and quick answers can boost your page's rating.



Twitter:

Although Twitter has a limit of 280 characters per tweet, the opinions and responses are just as valuable. When tagged in a tweet, customers expect a timely reply and can get pretty frustrated if you leave them hanging for too long.

Instagram:

Yes, it's a great opportunity to showcase visual content but it's even more important to engage with your followers and respond to comments, messages and mentions. Regularly monitoring the chatter on Instagram can help you discover some incredible user-generated content.

LinkedIn: Since LinkedIn is a professional networking platform, make sure your brand and content goals align with the space. You'll want to craft more formal responses to comments on your business page as well as private messages sent to personal accounts.
There's a notification for that
Try searching your company name on your favorite search engine or within each social platform to see what people are saying. If manually searching takes up too much time, there are tools designed to send automatic alerts when your brand is mentioned online. These can be set up through Google alerts or third-party sites such as web.mention.com.
While keeping an eye out for what the public is talking about, ensure that your employees are aware that they represent your brand in everything they post online.
Just like how Rome wasn't built in a day, neither was a successful social media strategy. It looks insincere when you have a string of posts or tweets followed by silence, so stay relevant, consistent and active.