Creative Design Internships
The whole reason for our existence is to grow ourselves in order to grow those around us. This means exploring, failing and trying again. We believe that through trial and error, the best ideas are born. This is why we promote Fearless Failure, allowing each team member to eliminate apprehension and go all in on presenting a new idea, even if it doesn't end successfully.
We believe in radical transparency, a way of communication that puts everything on the table. Everyone has the opportunity and responsibility to provide feedback and speak freely, no matter who presented the idea. This practice is easy when the news is good. It's when friction and disagreements occur that transparency becomes more difficult, more necessary and far more impactful.
Our environment is built on the fundamentals of safety and trust, not comfort. Comfort leads to complacency, and complacency leads to dull ideas. Through safety and trust, we allow each team member to present ideas with the knowledge that he or she will be heard. This has allowed us to move quickly and create further impact for each other and our clients.
Design Internship
Educating the next wave of design warriors is one of our passions. Our interns work on real campaigns, real clients and on real problems.
Looking for someone with a strong passion for design who wants to learn and get involved with real client work.  15-20 hours per week, great gig for those still in school. 16-week minimum commitment for all internships. If you are not highly motivated to push your career forward, you need not apply.
Responsibilities may include:
Designing creative digital concepts and ads
Photo editing
Website graphics
HTML coding
Video production
MUST HAVES
In pursuit of a degree or recent graduate in design and creative related field
Enthusiasm and passion for design (includes keeping up with trends and technologies)
Ability to present your designs and pitch your solutions to various stakeholders
Experience using Adobe Creative Cloud
Manage workflow efficiently and take responsibility for timing and delivery
Experience in prototyping a plus
Understands the importance of balancing aesthetics with strategy and function
The desire and self-motivation to balance multiple tasks at once in an efficient and timely manner
Ability to collaborate with a dynamic group of designers, developers, and strategists with the competence to communicate and advocate design rationale
Attention to detail
110% even when no one is looking
Ability to work creatively while managing a consistent workload
Ability to build rapport and have a positive attitude
Willingness to learn and be adaptable to change
Application dates:
Spring Session
January – April
Submissions by December 1
Summer Session
May – August
Submissions by March 30
Fall Session
September – December
Submissions by August 20
Dates may vary
What we offer
16-week internship program
Flexible scheduling
Diverse training opportunities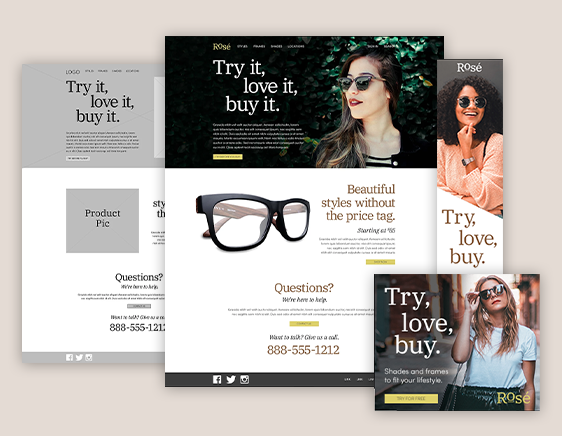 What you can

expect + learn
Our creative interns work on all the things we do! You'll be working on ads, web design, social graphics and more!
Client-facing creative work
Training in popular CMS platforms
Creative spec work
Asset development
Design high level user flows + sitemaps
Create social graphics for all SSDM social channels
Frequently
Asked Questions
Is this a paid internship?
This is an unpaid position, but can be used for class credit.
How long is the internship program?
Typically our internship program runs 16 weeks. However, schedules can be adjusted if needed.
What's a typical day for an intern?
Each day is completely different and depends entirely on the work we have going on. You can expect a lot of writing, research and curveballs.
How flexible is my schedule?
We are extremely flexible with intern schedules. As long as you're hitting your weekly allocated hours, the rest is up to you.